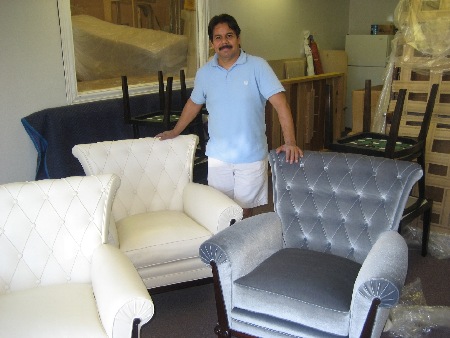 L&B Fine Custom Upholstery was established in 1990 by sole proprietor Gerardo Gonzalez. Before he created L&B, he gained his knowledge in various work rooms known in the Dallas area between 1975 and 1990. Mr. Gonzalez learned the trade, and began perfecting his techniques back in the days when designers used to apply fabrics of many types and textures to their pieces of furniture. Mr. Gonzalez has passed these skill sets and crafts on to many apprentices, including his current staff.

Mr. Gonzalez prides himself on crafting work from all styles, whether it be modern, contemporary, traditional, or even antique works. L&B upholstery is recognized by its respected list of clientele as capable of producing exactly what the customer wants and needs. From small projects such as ottomans and side chairs, to headboards, and complete living room sets, we believe any work/project can be completed in a timely manner. L&B Upholstery has been responsible for completing projects even as large as complete showrooms, where we have gained more popularity. Mr. Gonzalez has always been an expert in turning worn out pieces into like-new works of art, but has gained popularity in his custom work, where clients become more of the director/designer than in any other project.

Now that time has passed and after much experience earned,
we can say that L&B has gained a good reputation and has the pride to do custom upholstered furniture that has appeared in magazines such as Architectural Digest, Veranda, and Beautiful Homes. We have the confidence to say that the work he and his staff do is truly an art form. L&B Upholstery is a fast-growing name, and with continued success and recognition, will eventually be known to many as the premiere upholstery source.